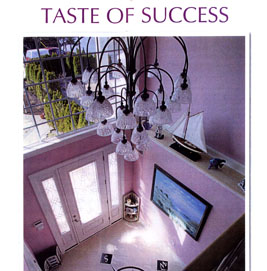 Some people know how to live life. One peek into Greg and Liz Cavallo's three–floor, 4,000 square–foot summer home makes it clear that they are people who know how to enjoy themselves.

Their Cove Drive property boasts the quintessential beach house, starting the large black compass inlaid in the entryway's white tile.

The house looks over Long Island Cove, and a pool and a fire pit outside likely come in handy on warm summer evenings. A well–stocked glass–fronted wine cabinet is a precursor of a motif that dominates throughout the house, showcasing what is clearly a passion for the Staten Island family. Wine labels, for example were hand–painted on tiles in the kitchen.

Read more.